Don't miss the Greens VS Melbourne Victory preparation match Tuesday 22 July 7.30 PM at Kingston Heath. Both teams are preparing for the Westfield FFA Cup so they will be playing for keeps.
IT'S BLACKTOWN VS BENTLEIGH GREENS Live TELECAST on FoxTel in the inaugural Westfield FFA Cup.
Tuesday 12th August 7.30 PM the full match to be broadcast live.
Round 17

Greens destroy out-of-sorts Werribee
By Rory F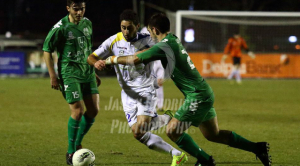 lanagan (@Rory_Flanagan)
Bentleigh Greens returned to the winners' circle with a comprehensive 4-0 win over a ten-man Werribee City on Friday night.
Wayne Wallace inspired the rout with a commanding midfield performance, supported by a David Stirton hat-trick including two penalties.
Looking to bounce back from a frustrating 0-0 draw against Pascoe Vale, the Greens were gifted the upper hand when Daniel Petrov saw red for impeding Liam McCormick's progress as the midfielder broke through on goal.
The decision surprised some, none more so than Werribee coach Nino Ragusa, who was left in a state of bewilderment.
After Brent McGrath's impressive form saw the ten-goal man depart for a lucrative offer in Thailand, the Greens had retained the services of flying winger Ryan De Vries.
Despite lacking sharpness coming into the game, the Waitekere United man still posed a massive threat on both flanks. The classic case of 10 men being harder to score against than 11 seemed to reappear as Werribee battled to repel last season's grand finalists.
There was little it could do about Luke Pilkington's strike from distance, breathing a sigh of relief as it fizzed off the outside of the post.
Inaugural NPL 1 player of the month Simon Tolli was one of a number of signings made by Ragusa in the transfer window. The former Zebra created a chance for himself with some neat footwork, but Alastair Bray was up to the task at his near post.
Bentleigh came closer and closer as the half wore on. Wallace won three consecutive headers from De Vries' corners, the second of those being brilliantly tipped around the post by Tommy Dunn.
As the rain started to pour, Werribee was simply a passenger to a dazzling five-minute spell from the Greens. A stunning team move gave Wallace a chance from 18 yards but his shot struck the base of the post and bounced clear.
Wallace and the Greens got their deserved goal right on halftime when Christian Cavallo's free-kick bounced off Dunn and into the path of the skipper, who tapped home.
In the blink of an eye, the Greens were two goals ahead as Wallace was fouled in the area, leaving Stirton to blast home from the penalty spot.
The game was dead as a spectacle as Werribee now had to endure 45 minutes of damage control, but Wallace set his sights on a personal highlight reel with a cheeky nutmeg on Steven Cudrig who fouled the number eight and saw yellow.
The midfield trio of McCormick, Wallace and Bulleen recruit Davide Cardamone were in complete control on their much preferred home surface, allowing caretaker coach John Gabrielson to throw on youngster Luke Gallo in place of Cavallo.
Rapid progress through the under 18s and 20s in 18 months has given the diminutive playmaker his opportunity and he took it with both hands, setting up two goals from the right flank.
Gallo played in Stirton, who won his own penalty and converted coolly, before winning back possession and playing a perfectly weighted pass into the path of De Vries who squared for Stirton to seal his hat-trick.
Bray was forced off with an ankle complaint and his new deputy Lajos Hun produced a superb low save to deny Devon Bonne a consolation.
Gabrielson, replacing coach John Anastasiadis while he completes his UEFA A Licence overseas for the next few weeks, was pleased with the result.
"It was a clinical performance and it was just a matter of taking advantage of the situation (ten men) and making sure we keep a clean sheet and we scored four goals in the same time. Overall, it was very pleasing across the board," Gabrielson said.
Nino Ragusa felt his side was on the receiving end of some questionable refereeing. When asked about the result, he responded with, "Ask the ref. I don't know why we went to 50-odd minutes for some reason but I didn't see no stoppages first half at all so why are we still going 50 minutes?" "They (the players) all did okay – better than last week. We can't change what happened in the first few minutes but it has influenced the game completely. How long we're going to hold them for is just a matter of time. Bentleigh's a very, very good side."
Friday night's loss signals for consecutive defeats for Werribee, while Bentleigh consolidates its top-four place before meeting Melbourne Knights in the Dockerty semi-final on Tuesday night.
Under 20 NPL round 17 score: Bentleigh Greens 2 Werribee 3  Loss by the U20 squad.
The under 20 squad is currently under the direction of Frank McGrellis, the BGSC Director of Coaching.